Copy of Crab Boil - Labor Day Ideas
OVERVIEW:
Hi Angela! Your crab boil sounds like such a blast! I found some items that may add another layer of fun to the event including:

A gift for attendees if you've had interest in commemorating the event
Decor & Paper products: the options below are pretty basic including crab cutouts, crab roll paper for tables, crab garland, crab tableware
Pool Accessories
NEXT STEPS:
If you have interest in us ordering any of these items on your behalf, please provide the following:

Which item
Count needed
Color/date/text preferences if you're interested in the can cooler
Date of your event (to determine delivery requirements)

If you're seeking additional ideas for your event (entertainment, recipes, etc), please let us know and we are happy to curate additional content.
---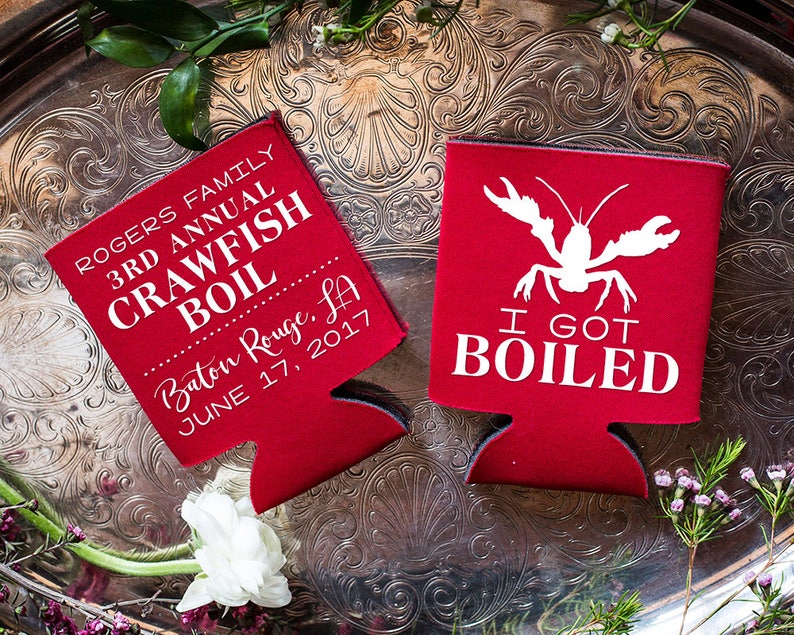 Option 1: Crab Boil Can Cooler - I Got Boiled Personalized
: $80 for 25 count
:

Sip Hip Hooray! |

Etsy
: We are the One Stop Shop for Savvy Brides-to-be, Business Owners and Party Planners!! Offering 100% customizable promotional products, party essentials and wedding favors with thousands of designs and products to choose from.
No matter what celebration or event you're shopping for – we've got you covered! Send your guests home with favors they'll actually use!!

Everything in the shop is 100% customizable by our in-house Graphic Design Team!

ANY COLOR COMBINATION!
ANY DESIGN OR ARTWORK INCLUDED!
ANY COMBINATION OF DESIGNS!
NO CUSTOM DESIGN FEES!
__________________________________________________________

CAN COOLER COLOR OPTIONS

10 - 15qty - 1 can cooler color / 1 ink color
20 - 45qty - 2 can cooler colors / 1 ink color
50 - 200qty - up to 4 can cooler colors / 1 ink color
200qty ( and up ) - up to 6 can cooler colors / 1 ink color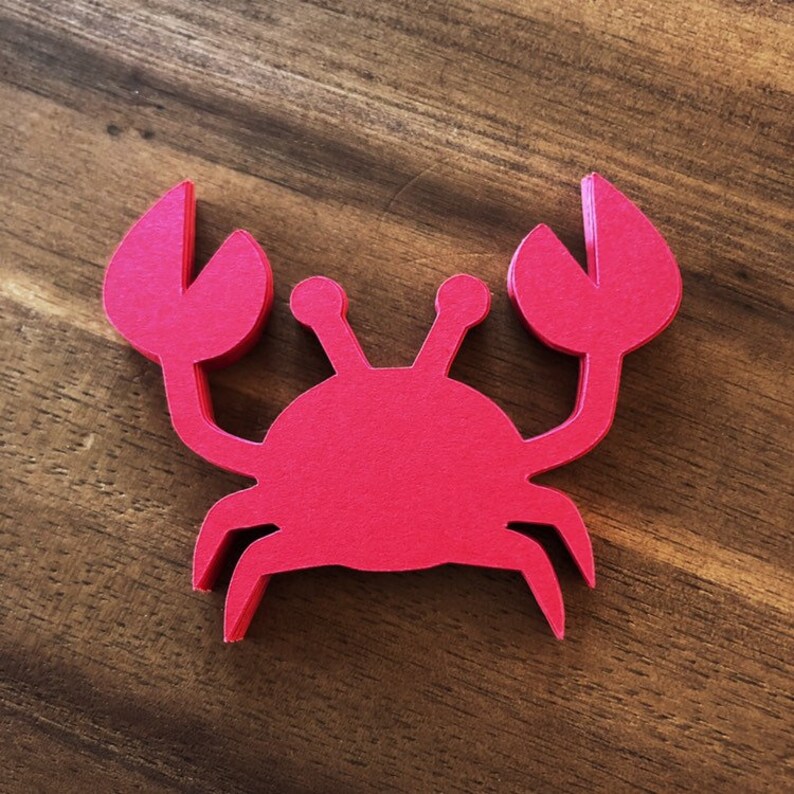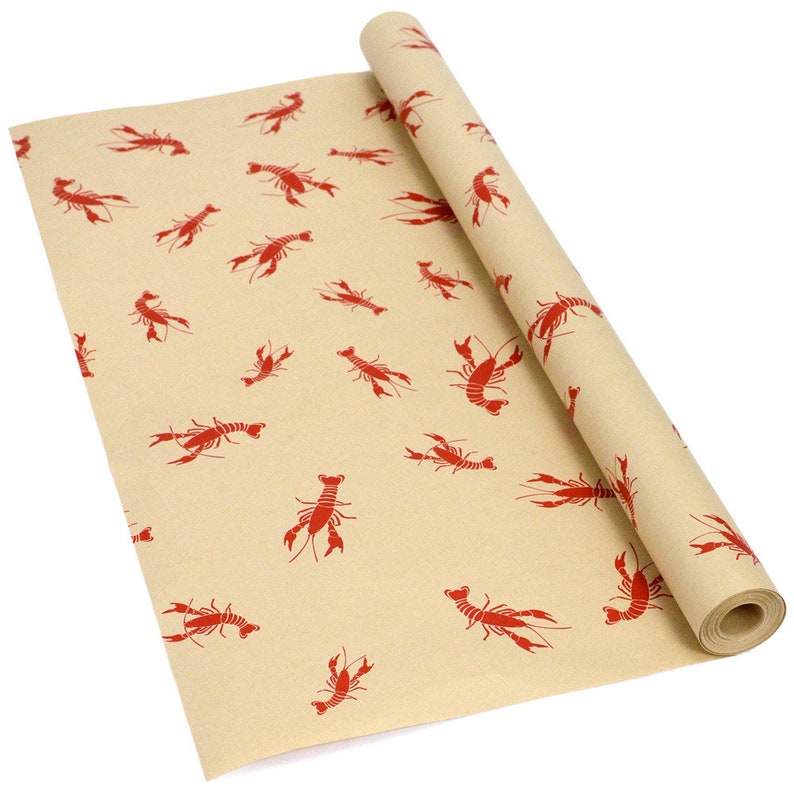 Option 3: Crawfish lobster Print Kraft Paper Roll - 50 feet
: $29.95
: New Orleans Originals

|

Etsy

:

A 50', or 600", roll of 24" wide kraft paper printed with our exclusive red crawfish lobster pattern. Use this versatile paper to wrap presents, or make table runners on your crawfish boil banquet tables.This unique kraft colored gift wrap paper is part of a line of coordinating custom crawfish products. Matching cups, napkins and tissue paper are available. See related products in our store. Crawfish Paper Decorating IdeasPlain newspaper covered crawfish tables are pretty boring! Add this fun paper down the center of a table as a table runner for a fresh look.Wrap gift boxes in this Crawfish inspired gift wrap paper. Add a bright red ribbon bow. Finish off the look by tying on a small metallic crawfish or bobble crawfish magnet as accent.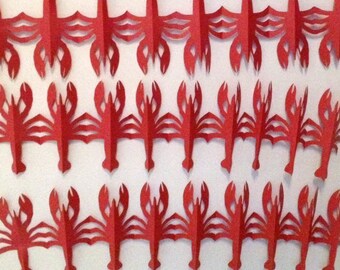 Option 4: Crawfish Boil Party Garland, Crawfish Boil Garlands, Crawfish Boil Party Decorations,
: $2.00 per foot
: woodieblockhead

|

Etsy

:

Crawfish Boil Party Garland. Mud Bugs Garland. Handmade! I can make any length that you need. Sold by the foot @$2.00 per foot. 3 Crawfish per foot. For example: If you need 20 feet of garland for your next party, you would purchase 20 of these. I originally made this for my son's wedding, and it was a huge hit. The reception was a Crawfish Boil, but this decoration could be used for any type of party. Made to Order and ready to ship in 8 to 10 days depending on the length. Orders larger than 25' take a little longer to make. Please convo me if you have a specific time frame that you need to receive the garland on large orders.This decoration will be the hit of your next party. Each crawfish measured flat: 5" width x 8 1/2" height. Please note: I can make and ship the crawfish faster than listed above, if you please let me know when you need to receive it.
Option 5: Seafood & Summer Tableware Kit for 16 Guests
: $31.99
: Party City

-

Tableware Kit includes:
16 Seafood & Summer Dessert Plates (SKU 830892)
16 Seafood & Summer Oval Plates (SKU 830891)
16 Seafood & Summer Beverage Napkins (SKU 830889)
16 Seafood & Summer Lunch Napkins (SKU 830888)
20 Royal Blue Plastic Cups (SKU 181681)
2 Seafood & Summer Table Cover (SKU 830890)
1 Royal Blue Premium Plastic Cutlery Set 24ct (SKU 285727)
Option 6: Floating Crab Pool Toy
: $8
: Party City

:

No crabby moods this summer when you go swimming with a Floating Crab Pool Toy! Shaped like a crab, this large pool toy is over 2 1/2ft wide and stuffed with foam balls, causing it to float. The top half of the smiling crab toy is red, and the bottom features orange and yellow stripes. Your kids will love splashing around with a Floating Crab Pool Toy at your summer pool party.
Floating Crab Pool Toy product details:
- 33in wide x 12in long x 6in tall
- Foam and polyester
- Not for children under 3 years
- Not a flotation device
---